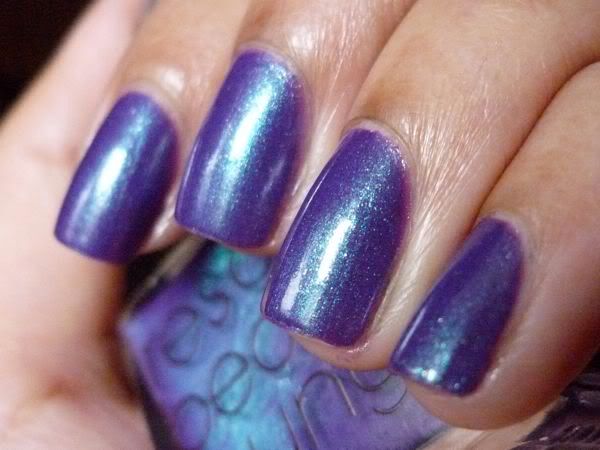 this color is absolutely beautiful in the sun; the duochrome comes alive and the individual shimmer particles can be seen distinctly. however, i'm not in the sun that often (especially not in new york in november), and in the shade i like this polish much less. in the absence of sunlight, scrangie's shimmer appears frosty rather than particulate, and the duochrome effect becomes so subtle as to just make the base purple color look dull and muddy. both of these issues are completely understandable and couldn't have been avoided in the creation of this polish (or for that matter, any duochrome shimmer), but they're still issues that make me eager to change my mani and remind me why i don't normally do duochromes.
application on this was great, just like i'd expect of an rbl - three thin, easy coats to perfection. i know some girls on the nb reported that their bottles were streaky and chunky, resulting in bald spots and the need for "impossibly thick" coats, but i had none of those issues.
by the way, for those of you wondering how this compares to brucci typhoon lagoon, i did a comparison
here
.
bf says: "holy moly i like that np." (yes, he's also started shortening "nail polish" to "np." ha!)