merry christmas to all who are celebrating today! in honor of the holiday, i'm wearing sally hansen salon project runway, from a recent collection that's currently exclusive to canada (so a big thank-you to the lovely girl who sent this polish my way!). there have been rumors that this collection may be coming to the u.s. at some point, but honestly, i wouldn't trust a thing sally hansen's customer service people say... they usually seem to be pretty clueless about distribution, etc.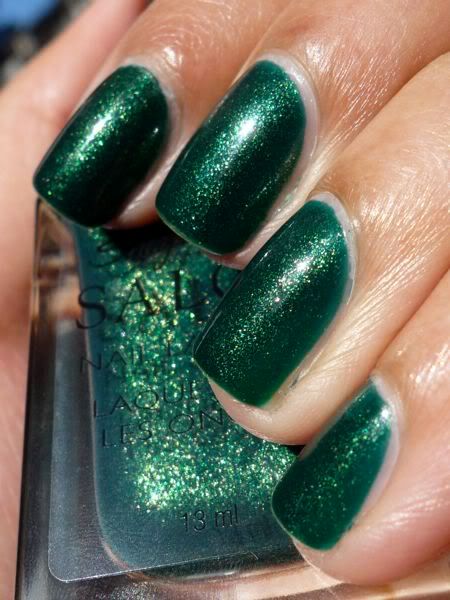 the above picture is of two coats. while this polish for the most part applied pretty well, it did have a somewhat odd consistency... it almost felt like i was gliding thin melted jello onto my nail. also, i was expecting this polish to look slightly different on me based on other people's pictures (i thought it would be darker and less blue, and that the gold shimmer would be more visible on the nail), but i do still like it quite a bit. what i do not like, however, is the crazy shrinkage poshe gave me on this mani! *grumbles*
and now, i'm headed off on a trip for a few days, although i've scheduled a couple of posts to go up during that time. i hope you all have a good weekend!